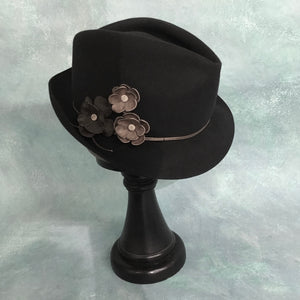 Modified Narrow Brimmed Fedora. Bronze leather modern flowers and double round leather band.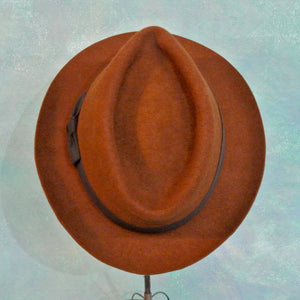 Classic Bronze Modified Fedora. Grosgrain chocolate classic bow and band.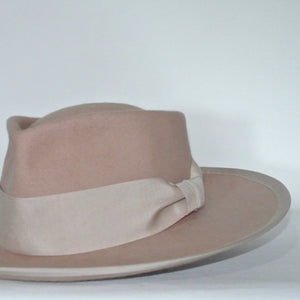 Wide Brimmed Camel Fedora. Tone on tone grosgrain band and hand sewn grosgrain edge.
Plaid Printed Trilby.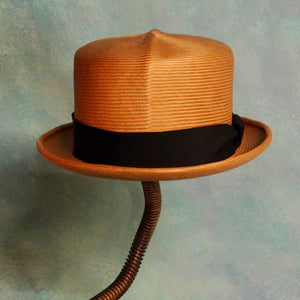 Traditional Panama Crown. Vintage gold para-sisal straw with a rolled narrow brim edge.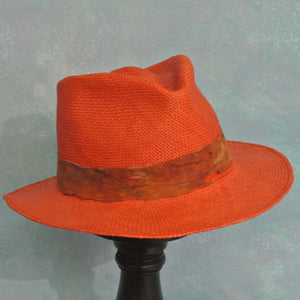 Burnt Orange Ecuadorian Straw. Lamb's leather custom birch bark band.
Natural Wide Brimmed Fedora. Ecuadorian straw, raw brim edge with a twisted 2 tone jinsin band.
Bright Yellow Ecuadorian Straw. Classic style with a turned under edge with a fushia grosgrain band and bow.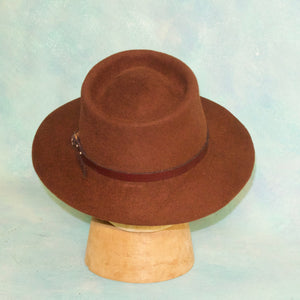 Daryl's Desire. Bronze, leather band and buckle, flat brimmed.
Narrow Brimmed Pork-Pie Crown. Striped band and bow with an upword folded edge.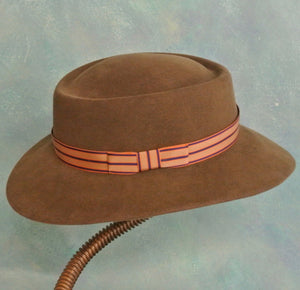 Karen Lorena. Pork-pie crown, sloped brim, turned under edge. Striped grosgrain band.
Heart Felt Fedora. Deep-V crown, raw edge. Downturned at the front and upturned at the back.
Round Crown Para-sisal Straw. Rolled edge, wide grosgrain band with a biot feather.
Natural Ecuadorian Flay Brimmed Straw. Trimmed with hand dyed silk and leather with a hand woven edge.
High Round Crown Flat Brimmed. Grosgrain hand sewn edge, classic band and bow with a straight feather.